Vegan German Chocolate Energy Bars
Ingredients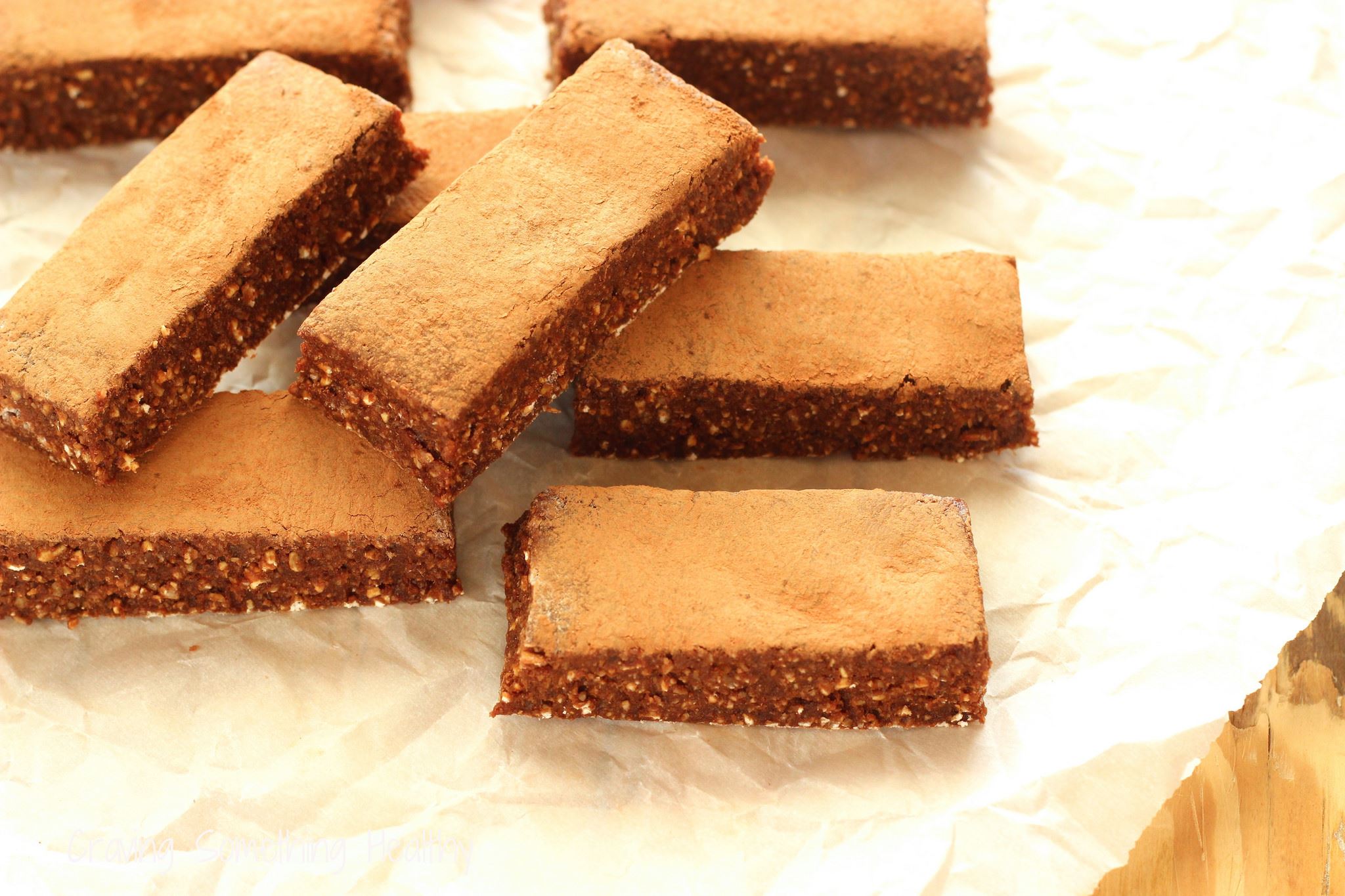 2/3 cup Old Fashioned Oats

1/3 cup Steel Cut Oats

1/2 cup vegan protein powder

1/4 cup unsweetened cocoa powder

1/2 cup unsweetened shredded coconut

1 cup pitted Medjool dates, soaked in water for about 30 minutes

1/2 cup pecan halves

2 tablespoons coconut oil

1 teaspoon vanilla extract

1/2 teaspoon salt

water as needed
Directions
1. Place both kinds of oats, protein powder, cocoa powder, and coconut in the bowl of a food processor fitted with the chopping blade. Process until everything is ground into a fine powder.
2. Drain dates well and add to the bowl along with pecans, coconut oil, vanilla, and salt. Process until dates are broken down and mixture comes together in a dough ball.
3. Add additional water by the teaspoon if dough seems too firm. It should be a bit sticky.
4. Scrape the dough onto a sheet of parchment paper or a silpat baking mat.
5. With your hands or a rolling pin dusted with cocoa powder, shape dough into a large square, about 1/2-inch thick.
6. Wrap the rolled-out dough in plastic wrap and let chill in the refrigerator to firm up, for about 2 hours
7. Cut into 12 equal pieces and wrap each piece in plastic wrap or parchment paper.
8. Store bars in the refrigerator for 5 days, or up to a month in the freezer.
Notes
Adapted from My Darling Vegan.
See http://cravingsomethinghealthy.com/vegan-german-chocolate-energy-bars/ for more pictures and info.
Courtesy of:
Nutrition Facts
Serving Size: 1 bar
Servings Per Recipe: 12
_____________________
Amount Per Serving
Calories 150
Total Fat 7 g
Saturated Fat 3 g
Trans Fat 0 g
Cholesterol 0 mg
Sodium 114 mg
_____________________
Total Carbohydrate 14 g
Dietary Fiber 3 g
Sugars 6 g
Protein 10 g