Super Fiber Muffin
Ingredients
Dry Ingredients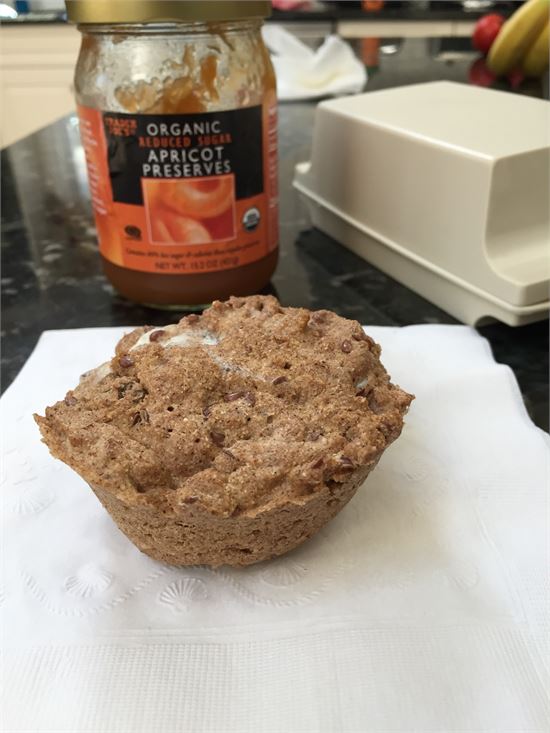 1 Tablespoon coconut flour (can also use almond flour or regular flour)

1 teaspoon flax seed meal (ground flax seeds, can use whole flax seeds also)

1 teaspoon psyllium husk powder (can be found at most pharmacies)

1/2 teaspoon cinnamon

1 Tablespoon raisins


Wet Ingredients

1 tablespoon water

1 egg

1 Tablespoon applesauce OR 1/3 banana (and omit the raisins)

1/8 teaspoon vanilla extract (optional)
Directions
1. Mix the dry ingredients in a small microwaveable bowl.
2. Add the wet to the dry ingredients and mix until combined.
3. Microwave on high for two minutes.
Notes
Enjoy with light cream cheese or a sliver of butter!
These muffins are about 250 calories with a lot of fiber and protein. They can be a breakfast all on its own, or with some yogurt, cottage cheese, or fruit preserves. Be sure to drink plenty of water with them since they are so high in fiber.
Courtesy of:
Marina Bedrossian, RDN, CDN
Nutrition Facts
Serving Size: 1 muffin
Servings Per Recipe: 1
_____________________
Amount Per Serving
Calories 167
Total Fat 7 g
Cholesterol 187 mg
Sodium 70 mg
_____________________
Total Carbohydrate 13 g
Dietary Fiber 11 g

Protein 7 g