Split Pea Soup
Ingredients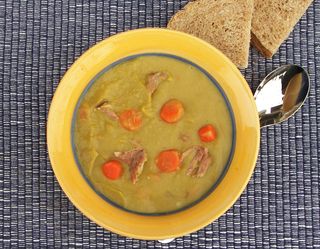 1 lb of dried split peas
2 qts water
1 medium onion, diced
3 cloves of garlic, minced
2 smoked ham hocks or meaty ham bone
3 qts water
6 medium carrots, sliced
1 T dried or fresh parsley, minced
salt and pepper to tast
Directions
1. Rinse and drain peas, place in a large pot with 2 qt water on stove and bring to a boil. Remove from heat and let sit for 1 hour.
2. Drain and rinse peas thoroughly
3. Place drained peas back in pot, along with onion, garlic, ham hocks, and 3 qt of water. Bring to a boil; reduce heat and simmer, stirring occasionally, until peas are very soft and mashed.
4. Remove ham hocks or bone, let cool. Remove and shred meat, discarding bones and fat.
5. Return shredded ham to soup.
6. Add carrots, parsley, salt, and pepper. Continue simmering until carrots are soft.
Courtesy of: Liz Marr
Nutrition Facts
Servings: 16
Calories 200
Protein 15 g
Carbohydrate 33 g
Fiber 12 g
Fat 1.5 g
Sodium 260 mg