Spice Squash, Chickpea, Kale, and Lentil Stew
Ingredients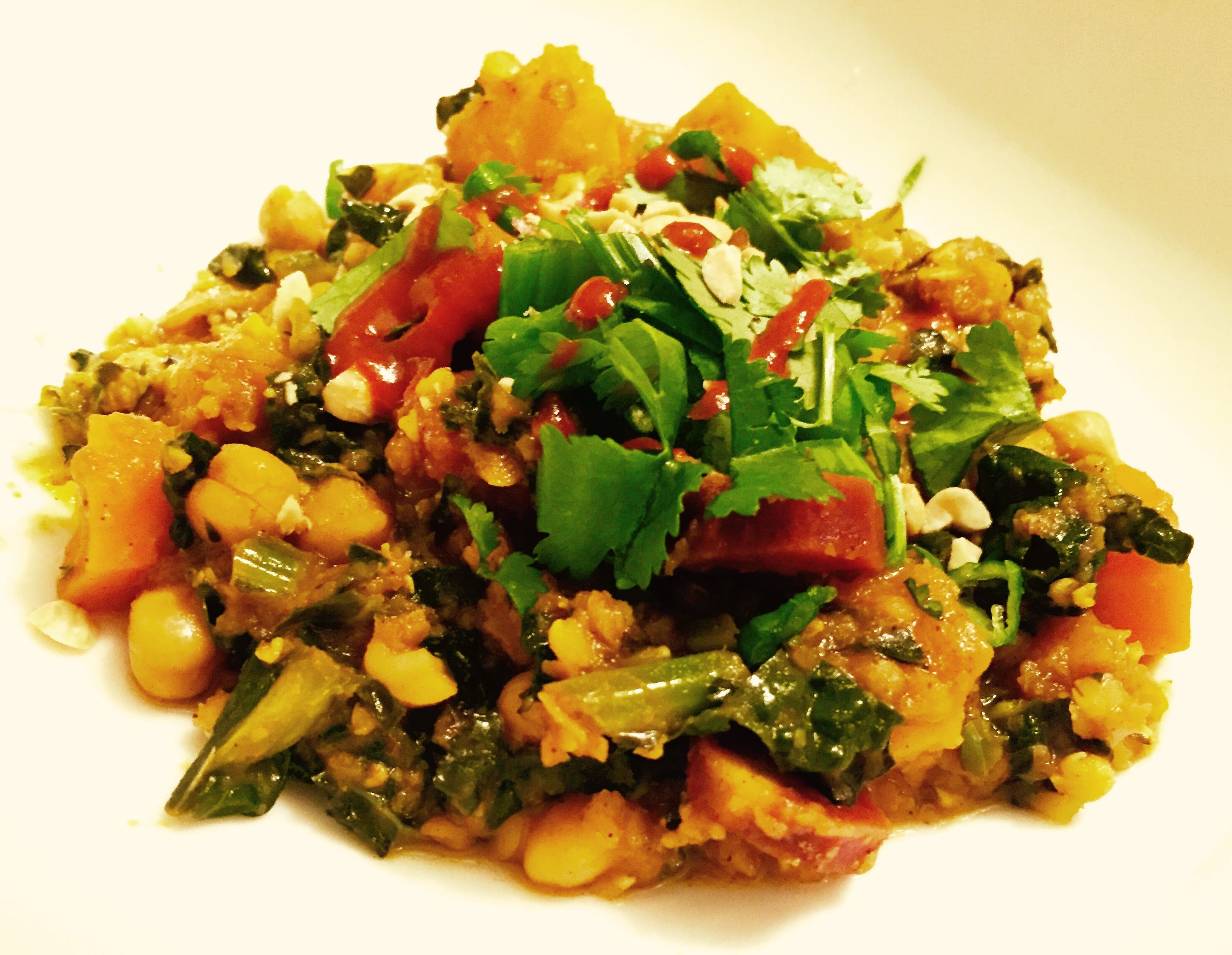 16oz butternut, kobocha, or pumpkin squash- cut into 1 inch squares

One 15oz can chick peas (Garbanzo beans)-rinsed and drained

9oz or 3 medium rainbow or regular carrots sliced ½ inch thick

3/4c yellow onion, chopped

1 Tbsp coconut oil

1 Tbsp garlic-minced

5oz Tuscan kale, finely chopped with stems removed

1 cup dried red lentils, rinsed

1Tbsp fresh lime juice

1Tbsp fresh ginger, grated

2 Tbsp tomato paste

1 ½ tsp cumin

1 ½ tsp allspice

1 tsp tumeric

½ tsp black pepper

4 cups low sodium chicken or vegetable broth

2 Tbsp chopped fresh cilantro

2 Tbsp chopped green onion

½ cup chopped peanuts

Plain nonfat Greek yogurt

Siracha hot sauce
Directions
Heat oil in a large heavy based sauce pan over medium heat. Add onion and garlic, cooking until soft and clear. Stir in cumin, allspice, and turmeric and cook for 30 seconds.

Add squash and cook on medium heat until color brightens and squash is slightly browned. Stir regularly. Add tomato paste, chick peas, lime juice, ginger, and 2 ½ cup broth. Cook, partially covered, for about 15 minutes. Continue to stir regularly.

In a separate pan, bring 1 1/2c broth to a boil. Add lentils, then run down heat to a simmer for 10 minutes.

Add kale and lentils to squash mixture. Continue to cook on medium heat until kale is softened, for about another 10 minutes.

Serve immediately. Top with dollop of yogurt, cilantro, green onion, peanuts, and if desired hot sauce.
Prep time: 25 minutes
Cooking times: 20 minutes
Courtesy of:
Leah Blalock MS, RD, CSP, CDE
Nutrition Facts
Serving Size: 1/6 recipe
Servings Per Recipe: 6
_____________________
Amount Per Serving
Calories 326
Total Fat 5 g
Saturated Fat 2.5 g
Cholesterol 1 mg
Sodium 141 mg
____________________
Total Carbohydrate 38 g
Dietary Fiber 9 g
Sugars 11 g
Protein 17 g