Naturally Sweet Peanut Butter Cookies
Ingredients
1/2 cup whole wheat flour
1/2 cup all purpose flour
1/2 teaspoon double acting baking powder
1/2 teaspoon baking soda
1/8 teaspoon kosher salt
1/2 cup unsalted butter, softened
1/2 cup all natural creamy or chunky peanut butter
8 packets Stevia Extract In The Raw™
1/2 cup Sugar In The Raw®
1 egg, beaten
1/2 teaspoon pure vanilla extract
Directions
Preheat over to 350oF. Combine whole wheat flour, all purpose flour, baking powder, baking soda and kosher salt in small bowl and set aside.
In large mixing bowl, beat together butter and peanut butter using electric mixer until smooth. Beat in Stevia Extract In The Raw and Sugar In The Raw mixture until blended. Add egg and vanilla and blend. Beat in flour mixture just until blended.
Shape dough into 1-inch balls two inches apart on ungreased cookie sheet. Flatten each cookie pressing crisscross pattern with a fork.
Bake 10-12 minutes or until lightly golden. Remove from oven and cool on a wire rack.
Store in a tightly covered container.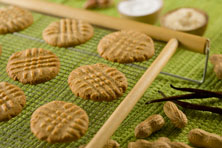 Nutrition Facts
Servings Per Recipe: 3
Amount Per Serving
Calories
70
Total Fat
4.5g
Trans Fat 0g
Sodium 45 mg
Cholesterol 15 mg
Total Carbohydrate
6g
Dietary Fiber 0g
Protein
1g
Exchanges per Serving
1/2 starch
1/2 carb choice
1 fat