Peanut Butter Buckeyes
Ingredients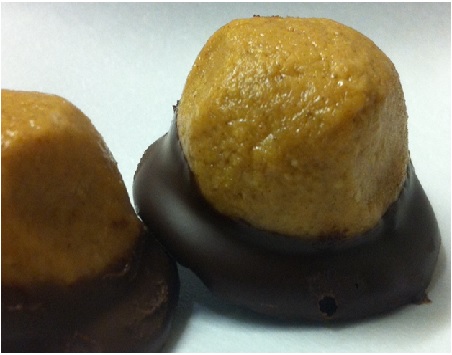 2 tablespoons natural peanut butter
1 tablespoon powdered sugar
3 tablespoons whole wheat or oat flour
1 tablespoon vanilla
2 heaping tablespoons semi-sweet chocolate chips
Directions
1. In a bowl, stir peanut butter, powdered sugar, flour and vanilla together until a firm dough forms.
2. Scoop dough using a teaspoon. Roll teaspoons of dough into a ball and place on a parchment covered plate. Continue with the rest of the dough and place plate in refrigerator for 15 minutes.
3. Melt the chocolate chips in the microwave in 30 second intervals. With a toothpick or your hands, dip peanut butter balls into melted chocolate so that the chocolate covers half of the ball. Place back on parchment covered plate.
4. Place plate in refrigerator for 15 minutes before serving. Enjoy immediately or store in an airtight container in the refrigerator.
Recipe courtesy of:
Molly Wagman
Nutrition Facts
Serving Size: 2 buckeyes
Servings Per Recipe: 4
_____________________
Amount Per Serving
Calories 110
Total Fat 6 g
Saturated Fat 2 g
Cholesterol 0 mg
Sodium 40 mg
____________________
Total Carbohydrate 12 g
Dietary Fiber 2 g
Sugar 6 g
Protein 3 g