Creamy and Chunky Tomato Basil Soup
Ingredients
1 cup milk, 1% fat
1 tbsp all purpose flour
1/8 tsp salt
1 tbsp olive oil
2.5 cups chopped tomato, fresh or canned
¼ cup fresh basil
¼ tsp rosemary, chopped, fresh or dried
1/8 tsp salt
2 oz fresh mozzarella, cubed small or in mini balls
Directions
Place flour in a cup and add milk slowly and stirring well. Add 1/8 tsp salt. Place it in a small saucepan and take it to a boil, stirring non-stop. Take away from the heat.
Heat a medium skillet, add the olive oil, then the tomatoes. Let it cook for a couple of minutes. Add the black pepper, salt, rosemary and basil.
Mix the tomato mixture with the milk.
Finally, pour into soup bowls and place gently on top the fresh mozzarella. Garnish with a leave of basil.
Serving Suggestions
Serve it with small portion of meat/poultry/fish and green salad.

Courtesy of:
Raquel Pereira MS RD LD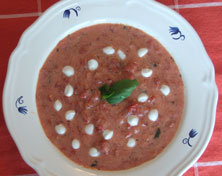 Nutrition Facts
Servings Per Recipe: 2
Amount Per Serving
Calories
225
Total Fat
12.9g
Saturated Fat 4.2g
Monounsaturated Fat 5.4g
Polyunsaturated Fat 1.0g
Trans Fat 0g
Cholesterol 234.89mg
Sodium 355.9mg
Total Carbohydrate
17.9g
Dietary Fiber 2.8g
Protein
6.5g
Exchanges per Serving
1/2 Milk
1 Vegetable
1/2 Medium-Fat Meat
2 Fat
1/2 Starches
1 Carbohydrate Choice