Couscous Wrap
Ingredients
1 cup low sodium chicken broth
1 tbsp olive oil
1/2 cup water
1 cup of dry couscous
6 6" flour tortillas
1 Tbsp olive oil
2 tomatoes, diced
1 green pepper, diced
1 zucchini, diced
1/4 tsp of fresh basil, chopped
1/2 tsp ground rosemary
1/2 tsp salt
1/2 black pepper
12 oz chicken, cubed, broiled or grilled
Directions
Boil the chicken broth with the water. Once the water boils, add the olive oil and couscous, mix it well, cover it, and turn off the heat. Let it set for 5 minutes.

Heat a medium skillet, add the olive oil, then when oil is warm, add the vegetables, herbs, salt and pepper. Let it cook for a few minutes, then remove from the heat.

Fluff the couscous with a fork, then mix it with the cooked vegetables and the broiled or grilled chicken in a medium bowl.

Warm the tortillas either in a panini grill, or baking in the oven, or in the microwave for 1 minute.

Fill each tortilla with the couscous mixture and serve it warm.
.
Note
Substitute these vegetables to other that you have available and substitute the chicken to turkey if you want.
Serving Suggestions
Serve it with a green salad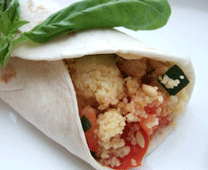 Nutrition Facts
Servings Per Recipe: 1 (265 g)
Amount Per Serving
Calories
Total Fat
9.4g
Saturated Fat 1.9g
Polyunsat Fat 1.5g
Monounsat Fat 5.2g
Cholesterol 49 mg
Sodium 458 mg
Total Carbohydrate
41.6g
Dietary Fiber 3.3g
Protein 25.4g
Exchanges per Serving
1 vegetable
2 1/2 starch
3 lean meat
2 1/2 Carb Servings