Yellow Split Pea Soup
Ingredients
3 cups water

2 cups vegetable broth

1 cup dry yellow split pea

1 cup shells pasta

1 can garbanzo beans

1 cup sweet corn

½ cup diced carrots

½ cup sliced dried tomatoes

1 tsp red pepper flakes

¼ tsp black pepper

¼ tsp salt

¼ cup fresh basil

½ cup parmesan cheese


Directions
In a large saucepan, take the water and the vegetable broth to a boil.
Wash and drain the split pea, then add to the boiling pan. Take heat down to medium heat, cover and let it cook for 30 minutes.
Add then all the other ingredients (except parmesan cheese), and add more water if needed. Cover it again, and let it cook for another 10 minutes. 4.Add parmesan cheese when ready to serve it.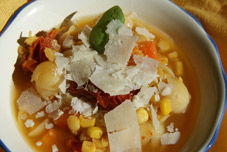 Nutrition Facts
Servings Per Recipe: 6
Amount Per Serving
Calories
215
Total Fat
3.7g
Saturated Fat 1.5g
Polyunsat Fat 0.8g
Monounsat Fat 1.0g
Cholesterol 6.5 mg
Sodium 993.7 mg
Total Carbohydrate
36.6g
Dietary Fiber 5.1g
Sugars 7.5g
Protein
9.9g
Exchanges per Serving
1 lean meat
2 starch
1 vegetable
2 Carb Servings