Watermelon Gazpacho
Ingredients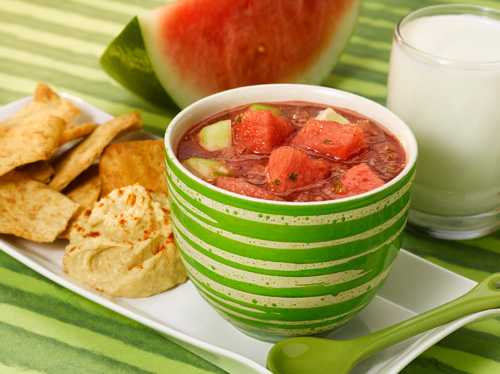 4 cups cubed, seeded watermelon, divided
1 cucumber, peeled, coarsely chopped, divided
1 garlic clove, minced
2 Tbsp chopped onion
2 tsp lime juice
1 tsp olive oil
1 Tbsp chopped fresh basil
1/8 tsp ground black pepper
½ jalapeno pepper, seeded and chopped (optional)
Directions
1. In a small bowl, mix 1 cup of cubed watermelon and 1/2 of the chopped cucumber, set aside.
2. Process the remaining ingredients in a food processor or blender until pureed.
3. Transfer all ingredients to a large bowl and stir. Refrigerate until ready to serve.
4. Serve with whole grain pita bread/chips and optional 2 tbsp. of hummus.
Recipe by: Liz Marr, MS, RDN, FAND
Nutrition Facts
Calories: 70
Protein: 1 g
Carbohydrate: 13 g
Fiber: 1 g
Total fat: 1.5 g