Veggie Combo with Sage and Lime
Ingredients
1 ½ tbsp olive oil
¼ cup vegetable broth
1 cup chopped mushroom
1 cup cubed zucchini
1 cup chopped broccoli
¼ tsp salt
Black pepper to taste
Fresh sage, to taste, chopped
½ one lime, squeezed
Directions
In a medium skillet, heat the oil and the vegetable broth together, at medium heat.
Add the vegetables and cover to cook for 2 minutes.
Add the salt, pepper and sage. Let it cook for another 2 minutes.
Add the squeezed lime and serve.
Serving Suggestions
Serve it as a side dish of meat/poultry/fish, with rice and beans, or pasta.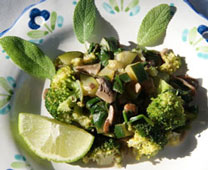 Nutrition Facts
Servings Per Recipe: 4
Amount Per Serving
Calories
68
Total Fat
5.7g
Saturated Fat 0.8g
Polyunsat Fat 0.7g
Monounsat Fat 3.7g
Cholesterol 0 mg
Sodium 226.9 mg
Total Carbohydrate
4.2g
Dietary Fiber 1.9g
Sugars 1.6g
Protein
2.0g
Exchanges per Serving
1 vegetable
1 starch
1 fat
1 1/2 Carb Servings