Quick Rice and Beans Risotto
Ingredients
2 tbsp olive oil, split
¼ onion, chopped
1 cup rice (Basmati, Arborio, or brown rice)
1 cup vegetable or chicken broth
1 cup water
½ tsp salt
1 medium zucchini, chopped
3 red tomatoes, chopped
1 cup fresh spinach, chopped
1 can white beans, rinsed
4 oz cooked chicken breast, sliced
½ tsp black pepper
½ tsp red pepper flakes
¼ tbsp fresh basil or dill
1 cup parmesan cheese, grated
Directions
In a medium saucepan, heat up at high heat 1 tbsp olive oil. Add the onions, let it cook for 1 minute, then add the rice, stir well. Then add the broth and the water. Turn heat to simmer, and cover. Let it cook for 10 minutes, then check to see if dry. Add more water if necessary. Let it cook until rice is soft. Set aside.
Meanwhile cooking the rice, heat up a medium skillet; add the other 1 tbsp of olive oil. Then add the zucchini, tomatoes, spinach, beans, cooked chicken, pepper, red pepper flakes and dill. Stir and let it cook for 2 minutes covered, then stir it well again and let it cook for 1 more minute.
Add the skillet mixture to the cooked rice. Serve warm.
Suggestion
Serving suggestion: great dish as a one-dish meal or served with a green salad.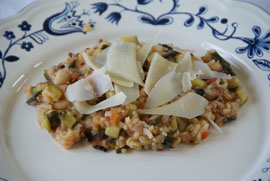 Nutrition Facts
Servings Per Recipe: 6
Amount Per Serving
Calories
334
Total Fat
9.5g
Saturated Fat 3.2g
Polyunsat Fat 1.0g
Monounsat Fat 4.7g
Cholesterol 19.6mg
Sodium 636.7mg
Total Carbohydrate
46.3g
Dietary Fiber 5.4g
Sugars 3.7g
Protein
16.5g
Exchanges per Serving
3 starch
1 vegetable
1 fat
1 medium-fat meat
3 Carb Servings