Quick-Pickled Red Pepper Vegetable Wrap
Ingredients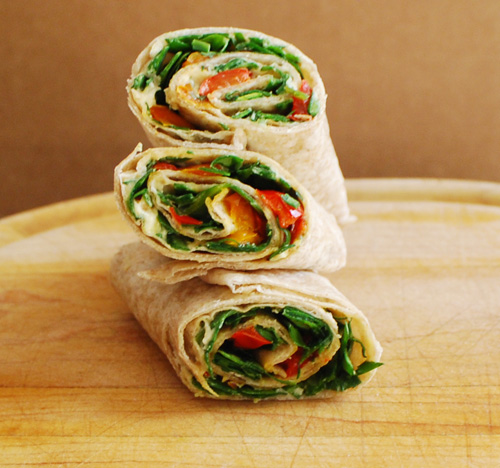 3 red, orange, or yellow bell peppers (any combination)

8 eight-inch whole wheat tortillas

8 oz hummus (I like "Greek style" or garlic-flavored hummus)

3 cups of baby spinach

2 tablespoons cilantro, chopped
For the pickling liquid:
1 cup white vinegar
1 cup water
¼ cup sugar
1½ tablespoon kosher salt
Directions
Prepare the vegetables (can be made several days ahead): Preheat the oven to 400 degrees. Roast the whole peppers for about 30 minutes, until soft and the skins begin to crinkle and turn deep brown on the sides.
Transfer the peppers to a bowl or brown paper bag and cover; allow to rest and cool for 30 minutes. After 30 minutes, the peppers should be easy to peel. Remove the skins, then slice the peppers into open halves and remove the seeds.
Prepare the pickling vinegar: Combine the vinegar, water, sugar, and salt in a small saucepan. Over medium-low heat, bring the mixture to a simmer until the salt and sugar dissolve. Allow to cool. To pickle the peppers, add the vinegar and halved peppers in a bowl, ensuring that the peppers are covered. Cover and refrigerate for 24 hours.
To assemble the wraps: Remove the peppers from the pickling liquid and chop into ½-inch pieces. Wash the spinach and cilantro and roughly chop (the exact size isn't as important as the fact that you don't want to pull out a whole spinach leaf with a bite). Spread a thin layer of hummus over one side of the tortilla.
Sprinkle the peppers, cilantro, and spinach over ¾ of the surface of the tortilla. Wrap tightly. Slice into halves or thirds and secure with toothpicks if needed.
Recipe courtesy of:
Nutrition Facts
Serving Size: 1 wrap
Servings Per Recipe: 8 (but can be split into halves or thirds for appetizers)
_____________________
Amount Per Serving
Calories 256
Total Fat 11 g
Saturated Fat 1 g
Sodium 430 mg
____________________
Total Carbohydrate 32 g
Dietary Fiber 6 g
Sugar 4 g
Protein 8 g