Pumpkin Pancakes
Ingredients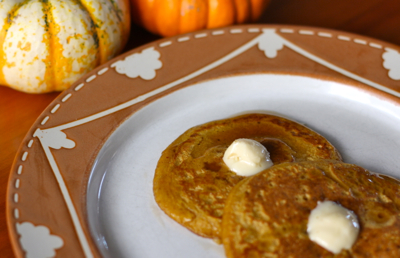 1 cup oat flour
1 teaspoon baking powder
2 Tablespoons brown sugar
¼ teaspoon pumpkin pie spice
1 egg white or 1/4 cup egg beaters
2/3 cup nonfat milk
¼ cup cooked pumpkin puree (fresh or canned)
Directions
In a small bowl combine the baking powder, flour, brown sugar and pumpkin pie spice together.
To a larger bowl add the egg whites, pumpkin and milk and whisk together. Then slowly whisk in the flour mixture until a smooth, thin batter is formed. Let stand for a few minutes.
Add ¼ cup (for 1 pancake) to a non stick skillet, or one coated with cooking spray and heat on high heat for 1-2 minutes each side. Repeat with ¼ cup mixture 5 more times for a total of six small pancakes.


Note
You can purchase oat flour or make your own by grinding oats in a food processor.
Serving Suggestions
Serve with a teaspoon of butter or margarine, light syrup or fruit.
Courtesy of:
Nutrition Facts
Serving Size: 1 pancake
Servings Per Recipe: 6
Amount Per Serving
Calories 80
Total Fat 1.5 g
Saturated Fat 0g
Polyunsat Fat g
Monounsat Fat g
Cholesterol mg
Sodium 135 mg
Total Carbohydrate 14 g
Dietary Fiber 2 g
Protein 3 g