Peanut Butter & Jelly Bars
Ingredients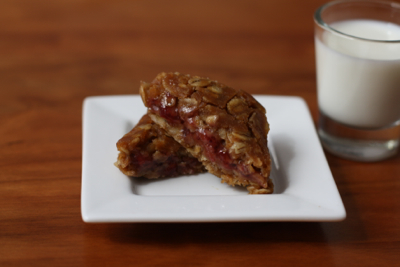 1 cup oats (old fashioned, not quick cooking)
1/2 cup creamy natural peanut butter
1/2 cup light pancake syrup
1/4 cup reduced sugar jelly (flavor of your choice)
Directions
Add the peanut butter and syrup to a small-medium pan and warm on low heat stirring frequently until blended together and softened (a very thick liquid consistency)- about 3-4 minutes.
Pour in the oats and continue to stir until mixed well, about 1-2 minutes. Remove from heat. Let cool and press mixture into an 8 by 8 inch pan. (Lining the pan with parchment paper and folding it over to press down works nicely.) Chill in the fridge for 30-60 minutes to allow it to harden a bit.
Take the mixture out of the fridge and use a sharp knife to make a cut down the center, dividing it into two large rectangle shaped halves. Spread the ¼ cup jelly across one of the halves and place the other halve on top , like a large sandwich. (Using a spatula is helpful to scoop it up without breaking it.).
Wrap the sandwich mixture in parchment paper or foil and refrigerate another 1-2 hours . Take it out and cut it into 8 squares, then cut each smaller square in half diagonally to make a triangle ( for a total of 16) and serve. Store in the fridge.


Note
Use gluten free oats if following a gluten-free diet. Almond butter could also be substituted for peanut butter.
Serving Suggestions
Perfect for an afternoon snack or fun dessert with 8oz of low fat milk
Courtesy of:
Nutrition Facts
Serving Size: 1 triangle
Servings Per Recipe: 16
Amount Per Serving
Calories 86
Total Fat 4 g
Saturated Fat <1g
Polyunsat Fat 0 g
Monounsat Fat 1 g
Cholesterol 0 mg
Sodium 56 mg
Total Carbohydrate 9 g
Dietary Fiber 1 g
Protein 3 g