Pasta Primavera
Ingredients
2 oz nuts (almonds, pine nuts or walnuts)
1 14-ounce can of artichoke hearts, diced, rinsed and drained
1 15-ounce can of garbanzo beans, rinsed and drained
1 zucchini, diced
4 red tomatoes, cored and diced
¼ tsp salt
1/8 black pepper
Dash of red pepper flakes
2 tbsp olive oil
¼ fresh or dried rosemary
¼ cup fresh basil
1 8.8-ounce package of fresh filled pasta (ravioli, tortelloni or any other filled pasta)
¼ cup parmesan cheese
Directions
Heat a large skillet to medium heat. Add the nuts to lightly toast them for a few minutes, stirring them often. Remove skillet from heat, set aside the toasted pine nuts.
In a large bowl, mix the artichoke hearts, garbanzo beans, zucchini, red tomatoes, salt, pepper and pepper flakes.
In a large sauce pan or pasta pan, heat up enough water to boil the pasta, according to package instructions. Add pasta and let it cook until al dente (according to package instructions).
Meanwhile pasta is being prepared, use same skillet used for toasting the nuts, place it at medium heat, add the olive oil and let it heat up for 30 seconds. Then add the vegetable mixture. Stir well and let it cook covered for 4 minutes. Add the herbs, stir and let it cook for 2 minutes more. Remove from heat.
Add nuts and vegetable sauce to cooked pasta and top it with the parmesan cheese. .
Note
Substitute these vegetables to other that you have available and substitute the chicken to turkey if you want.
Serving Suggestions
Serve it with a green salad.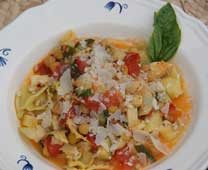 Nutrition Facts
Servings Per Recipe: 6 (299 g)
Amount Per Serving
Calories
387
Total Fat
16.9g
Saturated Fat 4.2g
Polyunsat Fat 4.2g
Monounsat Fat 5.6g
Cholesterol 36 mg
Sodium 722 mg
Total Carbohydrate
45.3g
Fiber 7.3g
Sugars 8.0g
Protein
15.5g
Exchanges per Serving
1 vegetable
2 1/2 starch
1 1/2 lean meat
2 fat
2 1/2 Carb Servings