Oat Crepe
Ingredients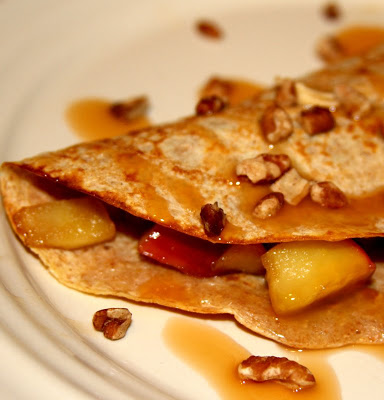 1/2 c oat flour (if you are on a gluten free diet use a brand such as Bob's Red Mill or you can make your own too by grinding gluten free oats in food processor)

1/4 c egg whites

1/2 cup low fat milk

cooking spray
Directions
1. Measure 1/2 cup flour into small bowl. Make a well in the middle of the flour and pour in the egg whites. Start adding milk while whisking briskly to a smooth, thin consistency. Let stand for 5 minutes.
2. While you are waiting, get out a plate to put the finished crepes on and some paper towels to put in between each made crepe as you stack them. Coat a medium size pan with cooking spray and put on high heat for 2-3 minutes, then spray again with one more coating before starting the first crepe.
3. Take a 1/4 c measure cup to scoop out the batter and pour into a small circle in center of the pan, very quickly rock/swirl the pan in a circular motion holding a few inches above the heat to get the batter to thinly coat the pan. Then put it back on the burner.
4. The crepe should look like a super thin pancake. When the edges start to curl up (about 1-2 min) use a large spatula to flip the crepe over. Heat about a minute on the second side (until very lightly browned). Remove from pan and place on plate. Cover with paper towel.
5. Repeat these steps for each crepe.
**Note: as the pan gets hotter the crepes will start cooking faster and may take as little as 30 seconds on each side. Always spray a new coat of cooking spray before making the next crepe. Be sure to put one paper towel (or a piece of paper towel) in between each crepe as you are stacking them to keep them from sticking together.
Nutrition Facts
Serving Size: 1 crepe
Calories 80
Protein 5 g
Carb 12 g
Fiber 1.5 g
Sugars 1.5 g
Fat 1.5 g
Saturated fat <1 g
Sodium 36 mg