Kiwi Krumble for One
Ingredients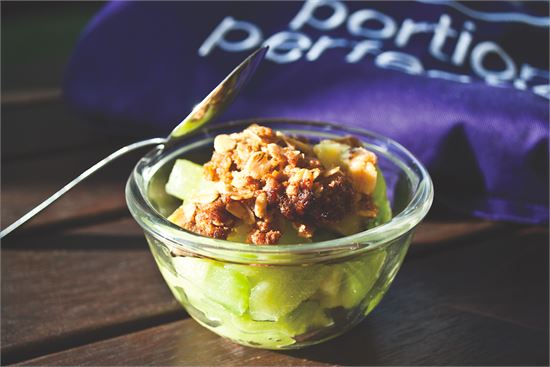 1 kiwi fruit, diced
1 tsp whole grain flour
1 1/2 tsp brown sugar
2 tsp traditional rolled oats
1 tsp vegetable spread, melted
Directions
1. Preheat oven to 320ºF.
2. Place diced kiwi fruit into small (1/2 cup) bowl.
3. In a separate bowl, combine flour, sugar, oats, and melted butter to form a crumble.
4. Spoon the crumble mix onto the kiwi fruit.
5. Bake in oven until crumble top is browned (about 15 minutes).
Courtesy of:
Amanda Clark, Advanced Accredited Practising Dietitian
Nutrition Facts
Serving Size: 1 crumble
Servings Per Recipe: 1
_____________________
Amount Per Serving
Calories 126
Total Fat 5 g
Saturated Fat 1 g
Sodium 38 mg
____________________
Total Carbohydrate 18 g
Dietary Fiber 3 g
Sugars 13 g
Protein 2 g