Kale and Chicken Sausage Soup
Ingredients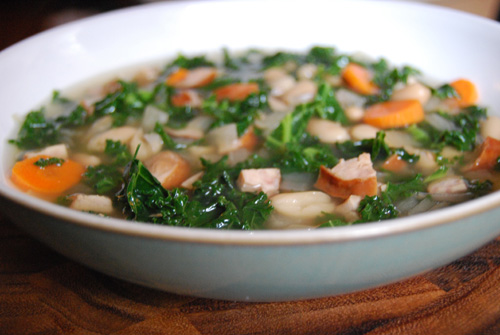 12 ounces chicken sausage, sliced into 1/4-inch thin rounds

3 tablespoons olive oil

1 medium onion, chopped

4 cloves garlic, minced

2 medium leeks (or 1 large)

3 carrots, sliced into thin coins

4 cups low-sodium chicken broth

2 15-ounce cans cannellini beans, drained

1/3 pound kale

2 sprigs rosemary

2 Parmesan rinds
Directions
1. Brown the sausage in a large pot over medium heat. Remove the sausage and set aside.
2. In the same pot add the olive oil, onions, leeks, garlic, and carrots. Cook until the leeks and onions are soft, about 10 minutes. Add the stock, beans, rosemary, and Parmesan rinds. Turn the heat down to low and simmer for 30 minutes. Remove the rosemary sprigs and Parmesan rinds.
3. Turn the heat up to medium-high and add the sausage and kale. Cook until the kale wilts. Thin the soup, if needed, by adding more water.
Courtesy of:
Nutrition Facts
Serving Size: 1/8 recipe
Servings Per Recipe: 8
_____________________
Amount Per Serving
Calories 208
Total Fat 10 g
Saturated Fat 2 g
Sodium 270 mg
_____________________
Total Carbohydrate 18 g
Dietary Fiber 3 g
Sugars 5
Protein 12 g