Italian White Beans and Spinach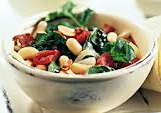 Ingredients
1T olive oil
2 large cloves garlic, chopped
1/4 cup pine nuts
2 dashes oregano
2 dashes basil
1 15 oz can diced tomatoes, undrained
3 cups white beans, rinsed, drained
10 oz frozen spinach, thawed
1/2 tsp chicken bouillon granules
6 cups spinach, raw
Directions
Place olive oil, garlic, pine nuts, herbs in pot. Place lid on pot. Press to "cook." Let cook for about 3 minutes or until fragrant.
Drain thawed spinach in a colander until all the water is removed.
Add tomatoes, beans, drained spinach and bouillon to garlic mixture. Stir until all ingredients are combined. Place lid on pot. Press "cook." Let cook until mixture is heated through.
Prepare raw spinach as necessary.
Serve the tomato and bean mixture on top of plain, raw spinach or with your favorite low calorie olive oil based salad dressing.
Notes
If pine nuts are not available, they can be substituted with 1/4 cup Parmesan cheese. The cheese can be added with the herbs and garlic or before serving. This substitution will change the following in the Nutrition Facts: sodium 534 mg, calories 368, calories from fat 19% and saturated fat 2 g.
Courtesy of:
Frances O'Neil, RD, MSW, CDE
FoodRx

Nutrition Facts
Serving Size: 1/4 recipe
Servings Per Recipe: 4
_____________________
Amount Per Serving
Calories 334.7
Total Fat 10 g
Saturated Fat 1 g
Cholesterol 0 mg
Sodium 461 mg
_____________________
Total Carbohydrate 47 g
Dietary Fiber 13 g
Sugar 6 g
Protein 19 g