Just Right Fruit Salsa
Ingredients
½ large red onion finely chopped
1 large or 2 small jicama, peeled and diced
½ whole fresh pineapple peeled, center core removed - dice ¼ and mince the other ¼
1 large ripe mango, peeled, pit removed and diced
Zest (finely minced) and juice of 1 lime
2-4 cloves garlic to taste, finely minced
7 Roma tomatoes, chopped and seeded
1 green pepper, center core removed, seeded and chopped
1 yellow or orange pepper, center core removed, seeded and chopped
1 red pepper, center core removed, seeded and chopped
4 kiwi, peeled and chopped
2 Serrano peppers, finely chopped (remove seeds and veins for less spicy heat)
½ to 1 whole bunch cilantro leaves finely minced
1 tsp sea salt or to taste
8 oz tortilla baked scoops
Directions
Mix all ingredients except the tortilla in a large bowl.
Serve it with the tortilla.
Recipe used with permission from J&R Schugel, winner of the Worksite Culinary Competition as part of the Heart of New Ulm Project.
www.heartofnewulm.org
Note
Refrigerating overnight allows all flavors to meld and the heat from Serrano chiles to be evenly distributed. Fresh salsa is delicious too – expect a bit more crunch and a lot more heat!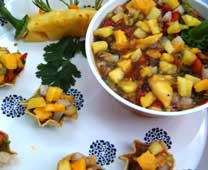 Nutrition Facts
Servings Per Recipe: 8
Amount Per Serving
Calories
273
Total Fat
5.8g
Saturated Fat 0.9g
Polyunsat Fat 0g
Monounsat Fat 0.2g
Cholesterol 36 mg
Sodium 610.4 mg
Total Carbohydrate
47.4g
Fiber 6.7g
Sugars 0g
Protein
12.5g
Exchanges per Serving
1 starch
1 vegetable
2 fruit
1 fat
3 Carb Servings