French Lentil Salad with Cherry Tomatoes
Ingredients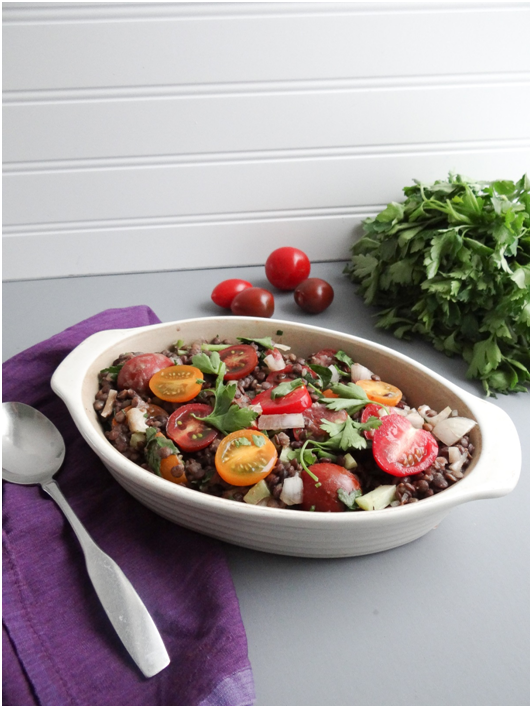 1 pound (454 g) dried lentils (or 3 cups cooked; see Note)
4 cups (948 ml) water
2 teaspoons reduced sodium vegetable broth base
4 celery stalks, diced (160 g or about 1½ cups)
1½ cups (224 g) cherry tomatoes, halved
2 medium shallots, finely diced
¼ cup (15 g) packed chopped fresh parsley
1½ tablespoons extra virgin olive oil
2 teaspoons Dijon mustard
2 tablespoons red wine vinegar
1 teaspoon herbes de Provence
Freshly ground black pepper, to taste
1 medium garlic clove, minced
Pinch of sea salt, optional
Directions
Place the lentils, water, and broth base in a pot. Cover and bring to a boil over medium-high heat. Reduce the heat to medium and cook for 15 to 20 minutes, until the lentils are tender but firm.
Remove from the heat, drain any remaining liquid, and transfer the lentils to a large bowl. Chill for at least 30 minutes.
Stir in the celery, tomatoes, shallots, and parsley.
In a small dish, make the dressing by whisking together the olive oil, mustard, vinegar, herbes de Provence, black pepper, and garlic.
Add the dressing to the lentil mixture and toss. Taste and season with sea salt, if desired. Chill until serving time.
Notes
Active preparation time: 15 minutes
Total preparation time: 30 minutes (not including chilling time)
"Beans aren't the only member of the legume family worth celebrating. Lentils, packed with fiber and protein, are just as nutritious. Plus they cook up—no soaking required—in only 15 to 20 minutes. A French ami shared her mother's traditional recipe for lentil salad with me years ago. This simple salad, seasoned with a French vinaigrette, is a classic dish in France. It makes a wonderful, protein-rich highlight of any meal. Because the flavors continue to meld, it's also great the next day."
Note: If you're in a rush, use precooked, refrigerated lentils, available at many stores. Although a classic French lentil salad uses lentils du puys (small, dark green lentils), try other varieties for a colorful twist, such as yellow, beluga (black), or multicolored lentils.
Variation: Substitute cooked beans, such as white, fava, or cranberry beans, for the lentils.
From Plant-Powered for Life: Eat Your Way to Lasting Health with 52 Simple Steps and 125 Delicious Recipes Copyright © 2014 Sharon Palmer
Sharon Palmer, RDN
Author of The Plant-Powered Diet and Plant-Powered for Life
Nutrition Facts
Serving Size: approx. 1 cup
Servings Per Recipe: 6
_____________________
Amount Per Serving
Calories 136
Total Fat 4 g
Saturated Fat .5 g
Sodium 55 mg
____________________
Total Carbohydrate 19 g
Dietary Fiber 4 g
Sugars 3 g
Protein 8 g