Cracker Sandwiches
Ingredients
4 oz whole wheat crackers (approximately 24 to 30 crackers, depending on cracker size)

4 tbsp hummus (or natural peanut butter or almond butter)

[To make hummus: mix well in food processor 1 can of garbanzo beans (drained and rinsed), 2 tbsp Tahini (sesame paste), ½ tbsp olive oil, 1 garlic clove, ¼ salt, ¼ black pepper]

1 cup of fruit or vegetables, sliced

(Note: fruits go well with peanut butter and almond butter, and veggies go well with hummus)
Suggestions of fruits: strawberries, apples, peaches or bananas.
Suggestions of veggies: cucumbers, sweet peppers, tomatoes or radishes.
Directions
Place the crackers on a plate and spread the peanut butter/almond butter/hummus on all of them.
Top each of them with your choice of sliced fruit or vegetables.
Build them as little sandwiches, one half on top of the other.
Prepare ahead tip: pack ingredients in separate containers and build sandwiches at the time of eating for great freshness!
Nutrition Analysis: nutrition analysis may vary according to specific brand of food items used. Crackers, hummus, radishes and cucumbers were used for nutrition analysis in this example. Crackers vary tremendously in sizes and nutrition information. Be sure to check the Nutrition Facts label for the crackers you choose.
Courtesy of:
Raquel Pereira MS RD LD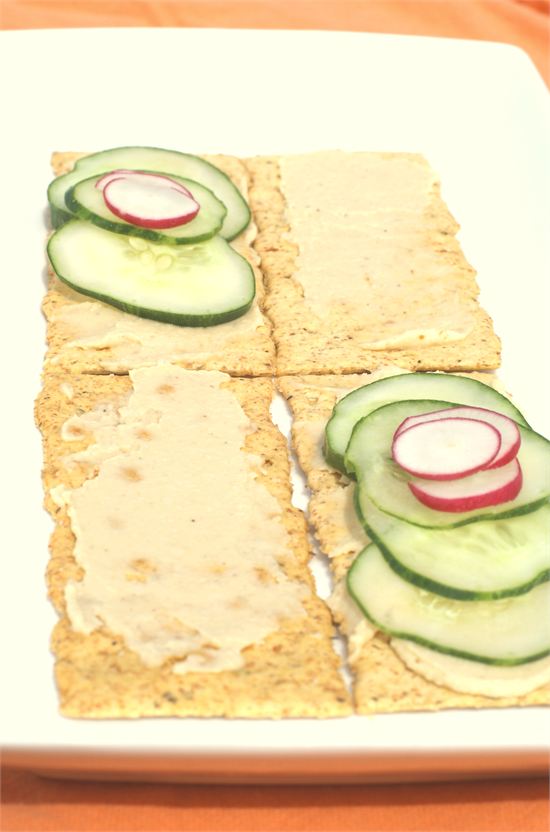 Nutrition Facts
Servings Per Recipe: 4
Amount Per Serving
Calories
244
Total Fat
12g
Saturated Fat 2g
Monounsaturated Fat 5g
Polyunsaturated Fat 1.0g
Trans Fat 0g
Cholesterol 0mg
Sodium 241mg
Total Carbohydrate
27g
Dietary Fiber 5g
Protein
7g