Citrus Basil Green Beans
Ingredients
1 cup of green beans, trimmed and cut in 1 inch pieces

1 tbsp olive oil
Dash of red pepper flakes

¼ tsp salt

1/8 cup fresh basil

½ lemon, juiced


Directions
Boil the green beans in water for 5 minutes.

Heat a medium skillet. Add the olive oil and let it heat up for 30 seconds.

Add the green beans and seasonings. Let it cook for 2 minutes.

Add the lemon juice and serve.



Serving Suggestions
Suggestion: serve it as a side dish to lean meat and rice.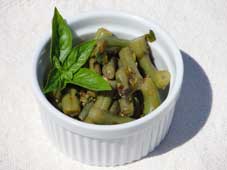 Nutrition Facts
Servings Per Recipe: 2
Amount Per Serving
Calories
85
Total Fat
6.9g
Saturated Fat 1.0g
Polyunsat Fat 0.8g
Monounsat Fat 4.9g
Cholesterol 0 mg
Sodium 291.6 mg
Total Carbohydrate
6.2g
Dietary Fiber 2.1g
Sugars 1.3g
Protein
1.2g
Exchanges per Serving
1 vegetable
1 fat 0 Carb Servings