Chile Verde Sauce
Ingredients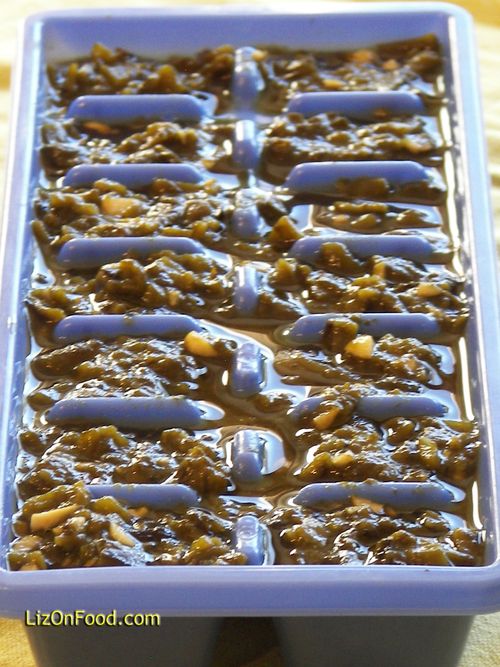 1 tablespoon vegetable oil
2 pounds poblano chiles
4 cloves garlic
2 cups water
Directions
Preheat oven to 450 degrees. Wash chiles. Brush two baking sheets with vegetable oil. Arrange peppers on baking sheets. Bake until skins start to bubble and turn brown. Remove from oven. Place chiles in large bowl, cover and let sit 15-20 minutes. Wearing rubber gloves, peel skins from peppers.
Slice open and remove stem and seeds. If you like really spicy chile verde, leave some seeds as they contribute to hotness. Dice chiles.
Dice garlic. Put chiles and garlic in saucepot. Add water to cover (about 2 cups). Simmer on low for 2-3 hours until chiles are soft and can be mashed.
Use potato masher to mash chiles. Let mixture cool to room temperature. Fill ice cube trays. Freeze until solid. Pop cubes into freezer containers or plastic freezer bags; freeze for later use.
Note
This recipe makes enough servings for 6-8 soup or stew recipes.
Be sure to use rubber gloves when handling cooked peppers.
See http://www.lizonfood.com/2009/11/chile-verde-sauce.html for step-by-step pictures.
Courtesy of: