Caramelized Brussels Sprout and Cabbage Pasta
Ingredients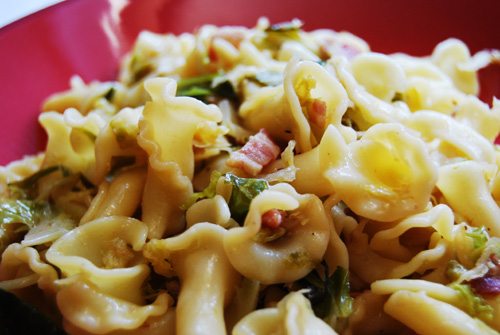 1 pound campanelle pasta (a trumpet-shaped pasta, but other tube-shaped pastas with ridges, such as penne, will work, too)

2 Tablespoons olive oil

1 pound shredded cabbage

1 pound shredded Brussels sprouts

1/4 pound pancetta, cubed

1/3 cup dry white wine

Parmesan cheese
Directions
1. In a large skillet cook the pancetta over medium heat until browned and just slightly crispy. Remove from skillet but leave the rendered fat in the pan (there usually isn't a lot, but I think it still helps with flavor). Add 2 Tablespoons olive oil to the pan and add the cabbage. Cook, stirring occasionally, until the cabbage starts to wilt. After 15 minutes, add the shredded Brussels sprouts (add another 1 Tablespoon of oil if the mixture is dry). Cook for another 15 minutes until the vegetables are very soft and slightly browned.
2. Meanwhile, bring a large pot of water to a boil; once the water has reached a rolling boil, add the pasta and cook until done (usually about 8-10 minutes). Reserve 1 cup of pasta water before draining. Return the pasta to the pot (don't allow to sit long; add just a little olive oil to keep the pasta from sticking if the vegetables aren't quite done).
3. Once the vegetables are cooked through, return the pancetta to the pan and add the wine. Toss with the pasta and cheese. Add some of the reserved pasta water if the mixture is dry. Serve hot.
Note
There are several reasons why this pasta dish makes a satisfying weeknight meal. It's just a two-pot meal: one pot to cook the vegetables and one to cook the pasta (which helps make cleanup easier). The ingredients aren't hard to prepare, and buying prechopped vegetables can save time. It's also a relatively inexpensive meal to make; cabbage and pasta, in particular, are on the inexpensive end of the spectrum, and russels sprouts, when in season, are reasonable. Pancetta can be pricey, but you can also substitute bacon or omit the meat altogether. It's a one-and-done kind of meal: it's a vegetable-packed pasta dish that is so appropriate smack in the middle of winter.
Recipe courtesy of:
Nutrition Facts
Serving Size: 1/4 recipe
Servings Per Recipe: 4
_____________________
Amount Per Serving
Calories 515
Total Fat 12 g
Saturated Fat 4 g
Sodium 337 mg
____________________
Total Carbohydrate 64 g
Dietary Fiber 9 g
Sugar 6 g
Protein 15 g