Blueberry Oat Muffins
Ingredients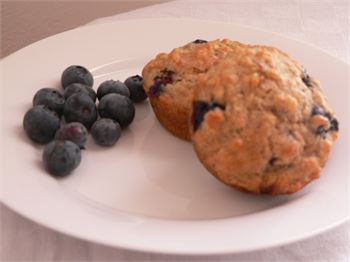 3/4 cup whole wheat flour
3/4 cup unbleached white flour
1 cup oats
4 tablespoons ground flax seed
2 teaspoons baking powder
1/2 teaspoons baking soda
1/8 teaspoon salt
1 egg, lightly beaten
1 ripe banana, mashed
3/4 cup skim milk
1/2 cup packed brown sugar
2 tablespoons Canola or vegetable oil
1 teaspoon vanilla
1 cup fresh or frozen blueberries
Directions
Heat oven to 400 degrees F. Grease twelve 2-1/2-inch muffin cups or line them with paper bake cups; set aside.
Stir together flours, flax, rolled oats, baking powder, baking soda, and salt in a bowl. Make a well in the center of the mixture.
Combine egg, banana, milk, brown sugar, oil, and vanilla in another bowl. Add egg mixture all at once to flour mixture. Stir just until moistened. Fold blueberries into the batter. Spoon the batter into the prepared muffin cups, filling each three-quarters full.
Bake in a 400 degree F oven for about 15 minutes.
Note
Raspberries could be substituted for blueberries.
Serving Suggestions
Serve for a quick breakfast or a great afternoon snack
Courtesy of:
Nutrition Facts
Servings Per Recipe: 12
Amount Per Serving Calories 172
Total Fat 4.3 g
Saturated Fat 0.38 g
Polyunsat Fat 0.88 g
Monounsat Fat 1.67 g
Cholesterol 15.81 mg
Sodium 184 mg
Total Carbohydrate
30.0 g
Dietary Fiber 2.9 g
Protein 4.7g