Black Bean Quinoa Burger with Chipotle Mayo
Ingredients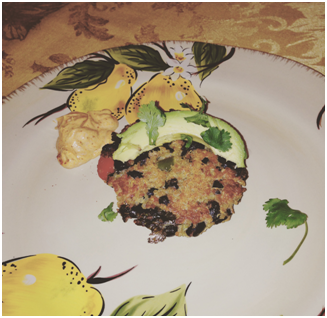 1 cup of canned black beans

1 cup cooked quinoa

2 eggs

1/4 cup of gluten free crumbs, rice or corn crumbs

1/4 avocado

2 Roma tomatoes

1 TBSP olive oil

1 red bell pepper

1 green bell pepper

4 TBSP fresh cilantro

2 TBSP scallions

1/8 tsp chili powder or pinch of cayenne pepper
Directions
Rinse and drain the black beans. Cook quinoa in a pot or rice cooker with 1 part quinoa to 2 parts water. Cut/dice tomatoes, peppers, cilantro and scallions. Add beans, cooked quinoa, breadcrumbs, ¼ sliced avocado, vegetables, herbs, and seasonings together in a large mixing bowl. Beat the egg with a whisk or egg beater. Add egg to the mixture and add breadcrumbs. Form into 3-4 inch burger patties. Place patties in the refrigerator for 10-15 minutes. Preheat oven to 425 degrees if baking patties. ** for a vegan version, substitute 1 TBSP ground flaxseed + 2.5 TBSPs water instead of 1 egg.
Place patties on a grill or in a glass baking dish in the oven, lightly oil the surface with olive oil. Bake or grill for 15-20 minutes until browned on each side. Alternate sides at half time. Top with avocado slices. Garnish with fresh cilantro. Serve with Chipolte Mayo, and a side of warm quinoa. Serves 4
Chipotle Mayo
1/2 cup Hellmans Light mayonnaise
¼ teaspoon or to taste: chili powder, cayenne pepper
Mix ingredients together and serve with Black bean quinoa burgers
Courtesy of:
Ilene Cohen, MS, RDN, CDE, E-RYT
Registered Dietitian Nutritionist, Certified Diabetes Educator, Yoga Teacher
Nutrition Facts
Serving Size: 1 burger (no mayo)**
Servings Per Recipe: 4
_____________________
Amount Per Serving
Calories 316
Total Fat 14 g
Saturated Fat 3 g
Cholesterol 82 mg

Sodium 327 mg
_____________________
Total Carbohydrate 44 g
Dietary Fiber 15 g

Protein 14 g
**1 tablspoon of chipotle mayo add another 35 calories, 3.5 g fat, and 1 g carbohydrate.