Bean Tacos with Fresh Mango Salsa
Ingredients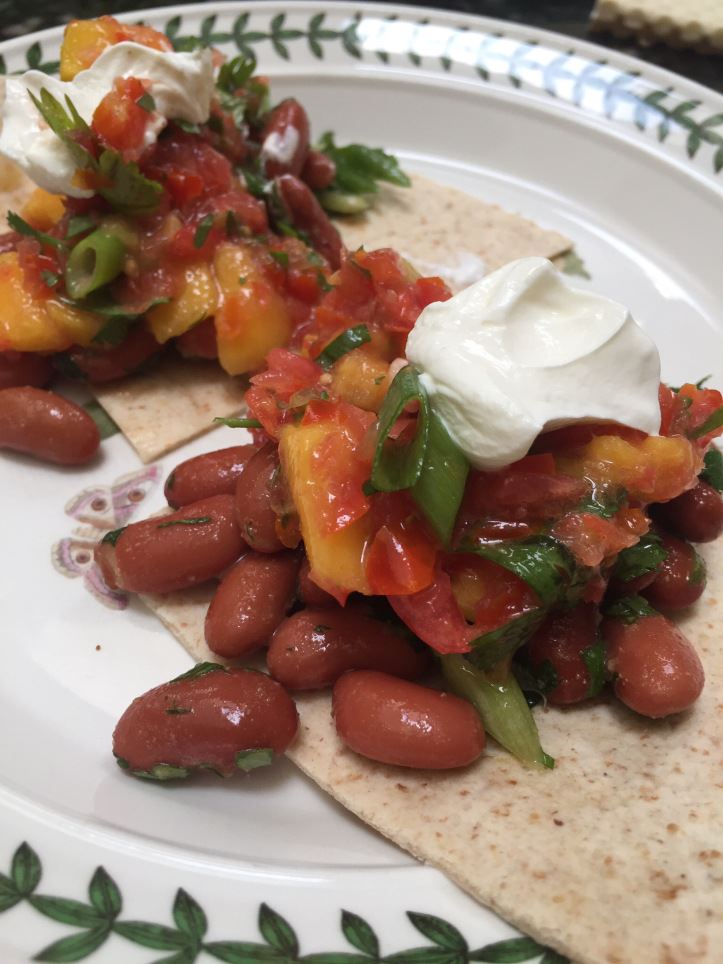 1-15 oz. can beans (pinot, black, kidney, cannellini-almost anything will work). Drain and rinse beans well to reduce the sodium.
1/2 cup of fresh cilantro, chopped
3 scallion, chopped
juice of 2 lime
1/2 tsp cumin
dash of garlic powder
dash of chili powder, and/or paprika
corn or whole wheat tortillas cut into quarters (or cut in half if they are small).
1 pint grape tomatoes
1/2 mango, peeled and chopped into small cubes
1/4 cup cilantro
salt and pepper to taste
hot sauce or jalepeno (optional)
Directions
Bean Tacos
1. Combine beans, 1/4 cup of the cilantro, 1 scallion, juice of 1 lime, cumin, garlic poweder, and chili powder in a medium-sized bowl.
2. Warm the tortillas in the oven or in a dry skillet on medium heat.
3. Fill the tortilla pieces with the bean mixture, and serve with salsa found below. Optional, add Greek yogurt on top!
Fresh Mango salsa
1. Pulse the grape tomatoes in your blender about three times, or until they are all finely chopped, but not yet liquid.
2. Add the tomatoes and the remaining ingredients in a bowl and stir to combine.
Recipe by: Marina Bedrossian, RDN, CDN, CLT
Nutrition Facts
Servings: approximately 4
Calories: 198
Protein: 10 g
Carbohydrate: 38 g
Fiber: 1 g
Sodium: 170 mg